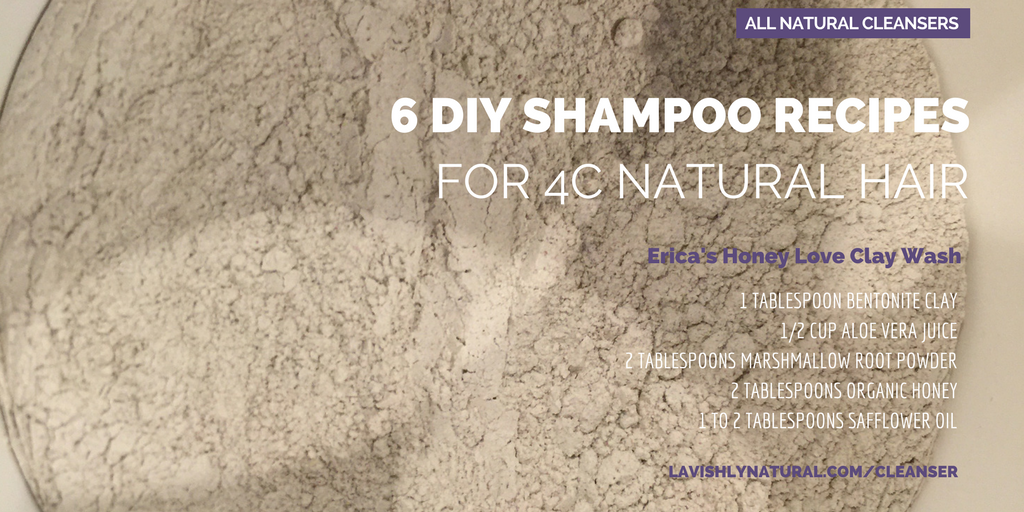 Hello Goddess!
Most of the products for natural hair are rich, creamy, and completely indulgent—so much so that they can leave a little product buildup on the hair. This is normal, but if you have hard water like I do, this little buildup can become a big problem.
The following diy shampoo recipes are wonderful for use any time you want to deeply cleanse and detoxify your hair.
Soap Nut Foam Clarifying Shampoo
Erica's Honey Love Clay Wash
Chelating Cactus Syrup
Cherry Club Soda
Lavishly Natural's Herbal Shampoo
Super Bowl Clay Wash
1. Soap Nut Foam Clarifying Shampoo
Looking for a foam based shampoo that won't leave product buildup?
Soap nut foam is the answer!
Soap nuts, (Sapindus mukorossi, also called soapberries), contain an all-natural detergent called saponin. When the soap nut shell absorbs water, it releases this detergent into the water. This surfactant gently removes dirt, oils, and grime from your hair and clothes. It's a popular alternative to chemical detergents. It's the not-so-secret ingredient that's great for a fabulous foamy shampoo!
Ingredients
4 to 6 soap nuts
1 cup of water
Instructions
Add soap nuts to a small 2-quart pot.
Add water to the pot and bring soap nuts to a boil.
Reduce to low-medium heat. Let them simmer for 20 minutes.
Strain out the soap nuts. You can use these again by storing them in a plastic bag once they dry. Keep them in your refrigerator for up to 1 month.
Pour the liquid in a food processor or blender.
Blend or mix on high for 30 seconds. The soap nut wash should begin to foam up as you mix.
Place foam in a bottle with a pump or in a sealable jar.
How to Use Soap Nut Foam
Massage the foam into your hair and work it down your strands. Continue to massage your scalp gently with the shampoo. If you want a deeper cleanse, allow the shampoo to sit on your hair for up to 5 minutes. The foam will begin to disappear as you use it, but it's still cleaning.
Rinse and repeat if needed. Follow up with your favorite hair tea, conditioner, or styling aids.
Soap nuts are pretty easy to find online. I buy mine from Mountain Rose Herbs (1lb is $8.00).
2. Erica's Honey Love Clay Wash
1 tablespoon bentonite clay
1/2 cup aloe vera juice
2 tablespoons marshmallow root powder
2 tablespoons organic honey
1 to 2 tablespoons safflower oil (or your favorite hair oil)
Instructions
Add the clay and marshmallow root powder to a medium sized bowl. Whisk the clay and marshmallow root powder. Make sure any lumps or clumps are removed. We don't want to wash these out of our hair!
Pour aloe vera juice in with the clay and powder. Stir until everything is mixed together.
Stir in honey and safflower oil.
If your mixture is too dry, add more aloe vera juice by tablespoon. Continue to stir all of the ingredients by hand to reach the consistency you like.
This is also a great mix to use after you've worn braids or twists for a few weeks (or months) and want to deeply cleanse your hair and scalp.
3. Chelating Cactus Syrup
If you check the back of your favorite shampoos, you might see the secret ingredient in this recipe—EDTA. EDTA (ethylene diamine tetra-acetic acid) is a chelating agent most known for removing heavy metals and minerals from cosmetics. It keeps your products, hair, scalp, and skin fresh.
When used in DIY hair cleansers, it removes soap scum that can develop over time from hard water. It also lifts and grabs onto heavy metals, removing them from hair and skin. This gives hair a clean, fresh feel and a healthy glow. This is a great recipe to use after wearing a protective style (braids, twists) for some time.
It's also the absolute best for getting chlorine out of your hair in minutes, without leaving your hair feeling stripped.
You can find EDTA online in powder form and in capsules. You don't need much. This recipe will cleanse, soften, and detox your hair from heavy metals, chlorine, and negative energy.
Chelating Cactus Syrup Recipe
16-ounce bottle with top
2 cactus (nopales) leaves (peeled and cleaned)
4 cups of distilled water
1/8 teaspoon (500 mg) calcium disodium EDTA
Instructions
Chop each cactus leaf into four pieces. Cactus leaf may also be listed as Nopales in your local grocery store.
Grate each piece until it becomes green mush.
Place grated cactus into a large bowl.
Add 4 cups of distilled water
Cover and let sit for 4 hours.
The water will thicken as it sits.
Strain cactus leaves from the syrup and throw them away.
Add in calcium disodium EDTA to the syrup and stir.
Pour the syrup into your bottle.
How To Use:
Apply a handful to wet hair and work through your hair from the scalp, to your ends. Once your hair is saturated, rinse until the syrup is gone.
Store unused chelating cactus syrup in your refrigerator for up to 3 weeks. A quick Google search using :"calcium disodium EDTA where to buy" will pull up where to find EDTA. (I use expired capsules leftover from DJ's therapy).
CAUTION:
Do not eat or drink calcium EDTA or EDTA in any form without being under the supervision of a medical doctor or health care professional.
4. Hair Detox | Cherry Club Soda
Cherries are nature's natural vitamin for hair, skin, and nails! Eating a bowl of cherries can boost your immune system, give you healthy, vibrant skin, and reduce your risk of cancer.
This recipe takes a naturally detoxifying club soda and adds hair-softening, revitalizing cherry pulp to the mix. Cherry pulp hydrates the scalp, prevents dandruff, and adds volume to your hair. It also helps balance the pH levels of hair and skin.
Other benefits of cherries include:
improves circulation
helps with weight loss
freshens hair and scalp
causes hair growth in balding areas
has a calming effect on the mind and body
helps prevent weakening of the heart and nervous system (making it a powerful antiaging
food)
prevents the growth and spread of cancer cells
induces and improves the quality of sleep
relieves moodiness and anxiety
strengthens brain function
improves memory
reduces stress
repairs damaged hair follicles
provides nourishment and nutrients to the scalp
Recipe Note: Black cherries have a better effect on hair loss and recovery. Montmorency (tart) cherries have been found to help the body recover better and faster after exercise.
Cherry Club Soda Recipe
1 bottle of club soda
1 cup fresh cherries
Instructions
Remove the seeds from the cherries.
Blend cherries and 1/4 cup of the club soda until well mixed.
Pour the cherry club soda mixture and remaining club soda into 2-quart pitcher.
Pour over your hair for an anytime detox.
Rinse out well and follow up with your favorite conditioner.
Optional:
Dip your fingers into the pulp mixture and gently massage it into your scalp. Allow this mixture to sit on your scalp for 10 minutes.
---
5. Lavishly Natural's Herbal Shampoo
16-ounce bottle with sealable top
16 ounces distilled water
2 tablespoons calendula flower
2 tablespoons rosemary
2 tablespoons lavender
1/3 cup liquid castile soap
2 teaspoons avocado oil
25 drops lavender oil
25 drops lemon oil
Instructions
Bring distilled water to a boil. Add in the calendula, rosemary, and lavender flowers. Reduce to low heat and cover.
Let the flowers simmer for 20 minutes.
Strain the calendula, rosemary, and lavender from the water and discard. Allow the water to cool for 5 minutes.
Gently add in your castile soap, avocado oil, lavender oil, and lemon oil.
Pour the shampoo into your bottle.
Shake well before using.
You can substitute your own essential oils in this recipe.
---
Super Bowl Clay Wash
3 tablespoons bentonite clay
3 tablespoons apple cider vinegar
3 tablespoons honey
2 tablespoons marshmallow root powder
1 tablespoon safflower oil
1 cup distilled water or aloe vera juice
4 to 6 drops lemon essential oil (or use your favorite)
Instructions
You can mix this in a bowl or blender.
Mix clay and vinegar first.
Add sunflower oil, honey and lemon essential oil.
If it starts to clump up on you, begin adding water. Start with 1 cup and continue to add until you reach your desired consistency.
Apply it to your hair, let it sit for 30 to 45 minutes, and rinse … well.
Sunflower oil substitution: jojoba, coconut, and avocado oils also work well in this recipe.
Let me know which ones your hair loves!
Do you have an all-natural shampoo that's great for 4C Natural Hair?
1.Bogavac, M., Karaman, M., Janjušević, L., Sudji, J., Radovanović, B., Novaković, Z., & … Božin, B. (2015). Alternative treatment of vaginal infections – in vitro antimicrobial and toxic effects of Coriandrum sativum L. and Thymus vulgaris L. essential oils. Journal Of Applied Microbiology, 119(3), 697-710. doi:10.1111/jam.12883